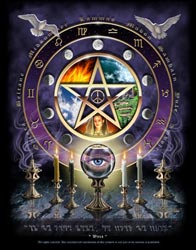 I honestly don't think most Christians understand the danger of the occult themes in our entertainment. "Oh, it's just a movie..." "He's a "good" vampire...." Well, even MTV (which is from the pit itself) has even acknowledged that this type of entertainment has some very real consequences.
Please take the time to read Pastor Joe Schimmel from the Good Fight ministries Biblical take on this issue.


Twilight, Harry Potter, The Wizard of Oz and the Wiccan Revival
"Wicca is one of the fastest-growing religions in the United States."
—MTV News
Is it true that media blockbusters like Twilight and Harry Potter are playing a decided role in seducing young people into Satanism and witchcraft? As we shall see, even MTV has acknowledged that such movies have played a surprising role in making Wicca [witchcraft] one of the fastest growing religions in America.

Twilight
, a series of novels authored by Mormon, Stephenie Meyer, reveals that she may have had some help from at least one "terrifying" spirit guide. With the second novel ready to hit the silver screen, Twilight is now bigger than "Pottermania" and has successfully deceived millions of America's youth. The fan base is made up of predominantly young girls, who have been drawn into the dark tale by a romance between a 108-year-old vampire (who appears much younger because he doesn't show his years) named Edward, and a teenage girl named Bella. Beyond the apparent pedophilic problems that this "romance" poses, Twilight is riddled with unbiblical themes that glamorize and glorify the occult.
One such theme involves the perverted occult concept of an incubus. According to Satanists, an incubus is believed to be a dark supernatural entity that is able to manifest itself and engage in sexual relations with a woman. Clearly, these are hardly the kinds of themes that God wants His children fantasizing about or glorifying.
While Edward's age and nature would seem to raise major red flags, such concerns are thrown to the wind by the undiscerning as Meyer spins Edward's vampire "coven" in the most positive light. While Edward and his coven are depicted as vampires in every way, from loving darkness and hating the light and possessing various diabolical abilities like extrasensory perception and automatic writing, Meyer portrays them as good-hearted and trustworthy demons, deep down. You see, even though Edward and his vampire "coven" readily drink the blood of animals… purportedly, with some self-control, they are able to resist drinking the blood of humans. However, God repeatedly forbids the occult practice of drinking any kind of blood, as the following scriptures from both the Old and New Testament attest:
"Only you shall not eat flesh with its life, that is, its blood." –Genesis 9:4

"For as for the life of all flesh, its blood is identified with its life. Therefore I said to the sons of Israel, 'You are not to eat the blood of any flesh, for the life of all flesh is its blood; whoever eats it shall be cut off." –Leviticus 17:14

"Only you shall not eat the blood; you are to pour it out on the ground like water…" –Deuteronomy 12:16
"Only be sure not to eat the blood, for the blood is the life, and you shall not eat the life with the flesh." –Deuteronomy 12:23
"But that we write to them that they abstain from things contaminated by idols and from fornication and from what is strangled and from blood." –Acts 15:20
Throughout the Twilight series, Edward and his coven are portrayed in the most heroic fashion as they fight on behalf of humans and battle their evil, blood sucking counterparts. There are, however, some complications that Edward and Bella's relationship pose… beyond their huge age differences, they must deal with Edward's diabolical nature. Edward must fight and overcome his own perverse and insatiable lust to drain and drink Bella's blood. Thus, Edward is depicted as a noble vampire who, though dangerous, loves humanity and wants to overcome his demons. Herein lies the danger, in a time wherein good is being called evil and evil is being called good (Isaiah 5:20), America is being fed a steady diet of occultism as Satan parades his latest occult fare via the "beautiful side of evil."

Satan Plays Good Cop-Bad Cop
Vampirism is rooted in occult lore and vampires are thought to be the physical manifestations of diabolically empowered entities, sometimes called the "undead". Twilight taps into the seductive, but delusional, occult theme that there are both good and bad demons and that a relationship with the right occult entities can help one ward off the really bad demons. Twilight is especially huge among many Wiccans and neo-pagans because of its occult themes and due to the positive PR it gives to the idea of "good" witches and "good" covens. MTV News, in a story they did on the revival of Wicca, states,

Tragically, many Wiccans have been deceived into believing they can have relationships with "good" spirits and cast "good" spells, when in reality, they have opened the door to demonic oppression and even demon possession. After many Wiccans open the door to the demonic realm, they are then taught that they can use counter spells to summon "good" spirits to protect them from evil spirits. This device has been effectively utilized by Satan to delude the prospective Wiccan by promising power, while enslaving them to an occult construct. Sadly, the vampire, Edward, is cast as a romantic supernatural hero, whose net affect in the real world gives ample fuel to the occult lie that there are "good" dark spirits.
Many Wiccans, sadly, never come to realize that Satan is running a "good cop, bad cop" con game, or in their case, "good demon, bad demon" as though one can be played against the other. God has revealed in His Word that spirits contacted by occult means are evil and part and parcel of Satan's original rebellion (Ephesians 6:10-12). God's Word is saturated with categorical warnings against all forms of the occult, including astrology, sorcery, divination, magic and witchcraft. (Gen. 3:1-6; Ex. 22:18; Lev.19:26, 31-32, 20:6, 27; Deut.18:10-12; 1 Sam.15:23a; 2 Kings 21:6, 23:24; I Chron.10:13; Isa. 2:6, 8:19-20, 19:3, 47:13-14; Ez.13:20-23; Dan.2:27-28, 5:15-17; Mal. 3:5; Acts 13:7-10a, 16:16-18, 19:19; Gal. 5:19-20; Rev 9:19-21, 21:8, 22:15, etc.)
The following admonition that God gave through the prophet Moses prohibits much of what is practiced today by many neo-pagans:
"Let no one be found among you who sacrifices his son or daughter in the fire, who practices divination or sorcery, interprets omens, engages in witchcraft, or casts spells, or who is a medium or spiritist or who consults the dead. Anyone who does these things is detestable to the LORD, and because of these detestable practices the LORD your God will drive out those nations before you. You must be blameless before the LORD your God." –Deuteronomy 18:10-13
Hollywood and the Wiccan Revival
The incredibly sharp increase of young people identifying themselves as neo-pagans and Wiccans in the last decade is largely a result of media propagandizing and the glorification of occult themes in Hollywood. Hollywood has a long history of providing fuel for the lie that there are both "good" and "bad" witches. The alliterative words from the Wizard of Oz, "Ding, Dong, the witch is dead! Which old witch? The wicked witch! Ding, dong, the wicked witch is dead!" imply that there are also "good" witches. Of course, in the Wizard of Oz, children learned that while there are wicked witches, there are also good witches like the "Good Witch of the North."

In recent years, Hollywood has targeted our youth through a long parade of subversive occult productions. Beyond the first two installments of Twilight and a seemingly endless procession of Harry Potter movies, other titles include The Craft, Practical Magic, Charmed, Buffy the Vampire Slayer, Sabrina the Teenage Witch, Wizards of Waverly Place, and the list goes on and on. Such movies, along with popular cartoons and music glorifying the occult, have been powerful weapons in Satan's arsenal and used as evangelistic tools to seduce our impressionable youth into his kingdom, from the crib to the grave! Please click here for entire article.
For more on this and other topics, see archives.
First time here? Please read "Don't trust a word I say!" in the archives.